Let's say you have decided to propose and intend to choose the engagement ring without letting your future fiancé know because you want the proposal to be a complete surprise. You will have to do a little work to make sure everything happens the way you dream of.
The first thing you need to know is your future wife's preference in jewelry. Perhaps she has dropped hints along the way, expressing her preferences in ring styles. In an emergency you can ask one of her friends.
Look at the jewelry she has and see if you can spot a pattern. Does she prefer gold? Is she partial to silver? Platinum? Would she be uncomfortable wearing an ostentatiously large diamond or delighted by its size?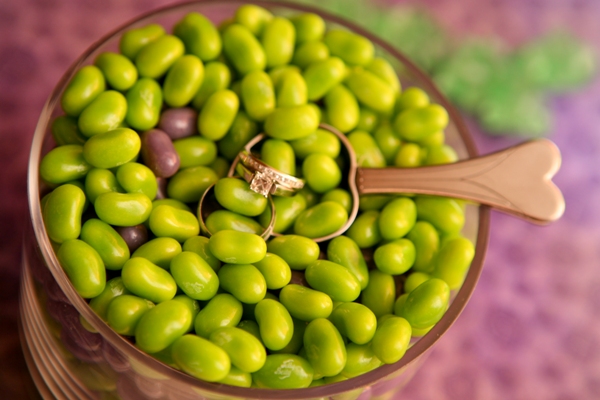 Decide what you can afford. The rule for engagement rings: Pay no more for an engagement ring than what is equivalent to two month's salary. If you make $6,000 in two months then shop for a ring in this price range.
Determine what type metal you want. Platinum? Yellow gold? White gold? Platinum is the priciest and most durable metal. Yellow gold is always popular but perhaps your fiancé prefers white gold.
Once decided, take a deep breath and determine the style you believe your intended would love most. Many women are partial to a center stone engagement ring while others lean toward a center stone with side stones or a ring comprised of three stones.
A solitaire is one diamond. It can be cut in various shapes including marquise, radiant, princess, round, Asscher, emerald, oval, heart, pear and cushion. A brief description of each style is below.
MARQUISE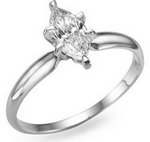 The first Marquise diamond belonged to Marquise de Pompadour, the mistress of Louis XV. The king had a ring created for the Marquise and when people referred to this ring they called it the "Marquise's diamond." This diamond is elongated and slim with pointed ends. It is set lower than a round diamond or standard princess diamond.
Marquise diamonds look better when the wearer's fingers are long and slender. If your fiancé's fingers are … the opposite of long and slender then this may not be the ring for her. Though not as popular as the princess or round diamonds, this may be the precise reason to choose the marquise. It will set your fiance apart from others wearing engagement rings.
ROUND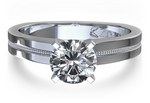 The round diamond is a common choice for engagement rings. The round diamond can either be a solitaire or include accent stones. The top of the round brilliant cut diamond is called the crown and is cut with a round face-up shade. The bottom of the diamond is called the pavilion and is shaped like a cone.
PRINCESS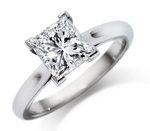 Chasing at the heels of the round diamond regarding popularity is the princess cut diamond. This cut is rectangular or square and looks comparable to an inverted pyramid with four beveled sides when viewed in profile. A comparatively new cut, only in existence since the 1960's, this diamond is referred to as a square modified brilliant. Set differently from a round brilliant diamond, its faceting style is matchless.
ASSCHER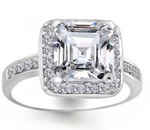 The Asscher cut diamond features a stepped square cut that is sometimes referred to as square emerald cut. The corners are cropped resulting in a nearly octagonal outline. This dramatic cut emphasizes the intensity of the stone and is designed to pull the eye into the stone.
EMERALD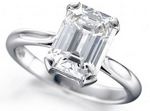 This cut was initially used on emeralds but is now used on diamonds. It's a dramatic cut, although not as sizzling as the round brilliant. The emerald cut is ideal for your fiancé if she likes powerful flashes of light emanating from the diamond. The emerald cut isn't as sought after as the round brilliant or as hip as the princess cut, which makes it more affordable than the other diamonds.
RADIANT
This is a good choice if one is drawn to the emerald and Asscher cuts but loves the blaze of the round brilliant cut. The radiant cut is either rectangular or square and is faceted for brilliance.
PEAR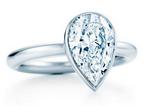 The pear shaped diamond is often referred to as the tear drop diamond based on its shape. The pear diamond is a combination of the marquise and round brilliant. This glistening diamond can be worn with the diamond point facing either the fingertip or the wrist.
OVAL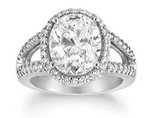 An oval diamond is a good choice, particularly if your fiance has long, slender fingers and will emphasize that shape. The oval is a variation of the round brilliant is quite sparkly.

HEART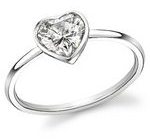 The heart shaped diamond is, basically, a pear-shaped diamond featuring a cleft at the top. This cut shimmers and is fiery.


CUSHION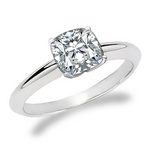 If your fiance is into vintage, purchase a cushion cut diamond. Sometimes referred to as a candlelight diamond or a pillow-cut, the cushion cut is timeless and quixotic. Its appearance is somewhat like a contemporary oval cut and the Old Mine cut, popular in the latter part of the 19th century and the early part of the 20th century. This cut is not as bright or blazing as the newer diamond cuts.
Now you have this rudimentary knowledge under your belt, head for the jewelry store to select your fiancé's engagement ring.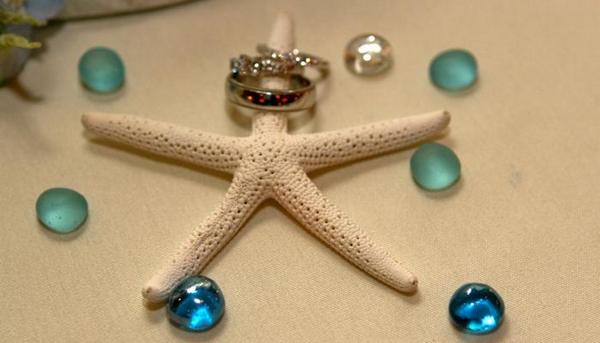 Don't be afraid to ask a lot of questions. THIS IS IMPORTANT! The jeweler will be glad to discuss other aspects of diamonds, making sure you leave with one that your future wife will love. Best of luck with your wedding proposal.
Elena Lang works with the finest jewelry at Primestyle. She sells engagement rings at a low cost and helps women find the perfect wedding sets.