Wedding bands deserve more options than the old-fashioned silver-and-gold, gem-set styles. Fortunately, artisans around the world have been creating exciting wedding band alternatives for both men and women, rings that have an extra dose of character and creativity for people who want their rings to be an expression as well as a marriage accessory.
1. Etched Rings:
Etched rings can be made with traditional metals like gold, silver, white gold, and other common options, but they can also be made of other materials, like bronze or brass. Instead of using a jewel setting (or sometimes in addition to it), etched rings have inset carved patterns – everything from swirls and circles to arrows and line patterns. Not only does this often make the ring less expensive and less prone to damage without the traditional gem setting, but it is also a unique look for a wedding band. The many patterns etched rings offer also allow loved ones to express personal style or heritage.
2. Wood Rings:
Wood rings may sound a little ridiculous, but they are a growing trend and have a lot more class than many people assume. First, beautiful and classy hardwoods like cherry are used to make the rings. Second, many wood rings are available with silver, pearl, or gem inlays to give them extra character and beauty. If you want wedding bands to make an eco-friendly statement or simply like the idea of a wood ring, check out some of the latest options.
3. Doubles and Triples:
One of the latest wedding ring trends is the double or triple ring, essentially a set of thin rings designed to be worn together. Sometimes these rings interlock or are connected, but they most frequently stay fully separated. This option is primarily for the ladies, but it is a stylish alternative to the traditional ring that may be a better fit for a free spirit. Dual-band versions, with the gem set between the two bands and connecting them at the base, is a tamer version that may also be more suitable for men.
4. Interesting Metals:
Precious and semiprecious metals remain popular, traditional options, but there is a growing selection of alternative metals used in wedding bands, too. These metals are designed primarily with guys in mind, but girls can use them, too! Tungsten carbide, titanium, stainless steel, pure palladium…the list of alternative metals is a long one. These rings are very low-maintenance, staying clean and resisting damage with little effort. For the eco-conscious, there are also a number of recycled metal rings.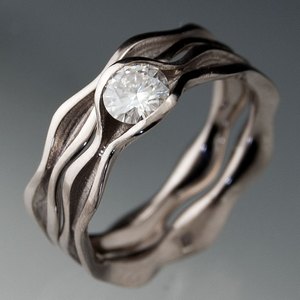 5. Away From the Simple Circle:
If you like your classic materials, consider more inventive ring designs beyond the basic circle. Some rings are now designed in a wave pattern, making them both more interesting and easier to take off or put on. Others have more unique, jagged shapes or curls that take them firmly away from the typical ring shape. This is an ideal option for those who want a little bit of character to their rings but still like the idea of traditional settings and materials.
These are just some of the many options you have to add a personal touch to your special day. For more wedding tips look at these articles from your Outer Banks Wedding Minister.
Article written by jewelry store Whiteflash Inc. – best provider of GIA&AGS certified loose diamonds in Houston (Texas).