Officiant Services for Outer Banks Elopement Ceremonies
Just because the two of you want to elope doesn't mean that you want to skip out on all the magic of your special day. As an Outer Banks, NC officiant, I work closely with you to deliver a no-fuss ceremony that works perfectly with your own unique style and personality. We don't have to meet for hours on end to reach that goal either. In fact, I have been the professional officiant at dozens of elopements in locations as diverse as golf courses, rental houses, big venues, and, of course, on the beach.
With many years of experience providing tailor-made elopement ceremonies on the Outer Banks, I have the experience and flexibility that couples need in order to elope with the class, style and charm they desire. I can help guide you in pulling together the resources you need on short notice in order to plan the type of memorable wedding you've dreamed of in the time span you have available.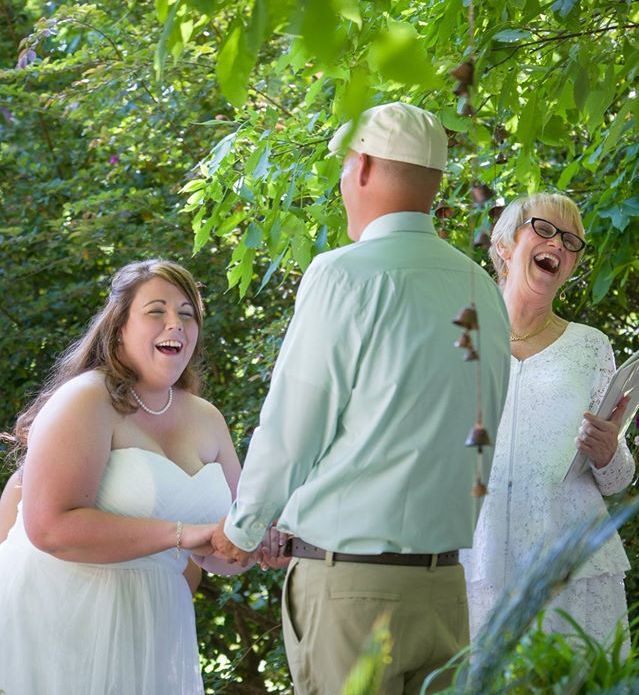 It's understandable that you two might be nervous and wonder how you can make your wedding special in just a short amount of time. Making a memorable ceremony doesn't need to involve a great deal of time, face-to-face meetings and fuss. When officiating elopement ceremonies, I am fully open to working with you for your last-minute wedding needs.
Outer Banks Elopement Ceremony Video
I get inquiries all the time from couples wanting to come to the Outer Banks and elope: no wedding party, no guests, just their love. Erica and Elliott chose to do just that, make it magical just for them, and to capture it on video for memories that will last them a lifetime. I was so elated to be allowed to be a small part of their celebration. Great job capturing their wedding day by Boyce Productions!
Elopement Ceremony Price & Details
Elopement ceremony minister services are $375, with a $100 discount for short-notice bookings. Elopement services include:
Prompt access to my services via telephone calls, emails, skype, and facetime
Travel time to your venue (some locations might require an additional charge)
Ministerial services
Timely filing of all State required paperwork
Weather Considerations
Because the weather on the Outer Banks can change quickly, I can also reschedule your ceremony and/or the location to meet your needs (it's always prudent to have a plan B).
What Other Couples Have Said About the Elopement Ceremony
Dear Barbara,

Your beautiful blessings and deeply touching ceremony made our wedding day absolutely perfect. When Aaron and I decided to elope to the OBX, the search for an officiant began. We found you online and based on the testimonials, we made the call.

From that phone call, to our ceremony on the beach and after to follow up on the wedding license, you were simply wonderful!! You helped us in our search for vendors, sorted out whether a permit was needed, you name it, you thought of everything.

Meeting you in person on our big day was very special. Your calm presence and great happiness settled any nerves we had before the "I dos." Our ceremony was incredibly heartfelt and your great joy as you spoke the words for our union is something we will always hold dear.

We cannot say thank you enough Barbara. Your grace and serenity, your kindness and thoughtfulness, everything you did, truly made our day one of the best memories we will treasure in our hearts. We are looking forward to seeing you again when the time comes for our wedding vow renewal ceremony!

With love,

Amy & Aaron Plunkett

My husband and I decided to elope in a "destination" setting. So I organized everything via the internet, depended heavily on reviews and crossed my fingers. Barbara seemed to fit our budget and had good reviews, so we sent her an email. And we ended up very happy to have picked her to wed us.

Barbara was fantastic from the start. Soon after I sent her an inquiry, she called to speak with me and answer any questions I had. She even called us the day of to make sure everything was going smoothly and was on time.

Given the nature of a short, civil ceremony, we were expecting it to be pretty straight forward and kind of clinical. But what we got instead was an absolutely beautiful service that brought tears to both of our eyes. She exceeded both our expectations.

We would highly recommend her to anyone getting married in the OBX area.

Monica S (married September 2014)
Click to read more testimonials for Reverend Barbara Mulford
Book Your Elopement Today
As a warm, caring and non-denominational wedding celebrant, I strive to cater to the couples who come to me to make their wedding dream come true no matter what that may be. Whether you want to elope because you want to run away, you want to keep things simple or you're in a hurry, I am flexible enough to accommodate any last-minute arrangements you need.
Ready to make your dreams of being together forever a reality? Contact me today to learn how I can help you personalize your elopement so that it reflects those qualities that mean the most to both of you.