As you prepare to purchase your wedding band, there are a lot of questions that may come to mind. After all, you hope to be wearing this particular piece of jewelry longer than any other. How can you be confident you've chosen well? Here are a few things to consider as you look for that perfect ring.
Comfort
Considering the goal is to wear this ring until…well, death do you part, comfort should be one of your top priorities. If you aren't accustomed to wearing a ring, try not to choose something heavy or ornate. The weight and bulk of the ring can be difficult to get used to and you certainly don't want to feel like you need to take your wedding band off to be comfortable. Also find out if the material for the ring can be re-sized. Certain metals or jewel-encrusted bands can't be re-sized once forged and over time, your ring size can certainly change. Resist the urge to wait until after the wedding to try the ring on since, on the day of the big event, you want it to fit like a glove.
Price
Just because the ring will be worn forever, doesn't mean it has to be costly. Lab-created diamonds are often beautiful, high quality and lower in cost than their natural counterparts. Most jewelers offer a variety of metal options that can significantly increase or decrease the pricing for your ring as well. While silver, gold and the newest favorite platinum are all great choices for rings don't discount some of the other options like titanium, palladium and tungsten carbide. Some of these metals do have limitations, however, on their ability to be engraved or to hold a stone so make sure you know the basic differences in the capabilities of the metal.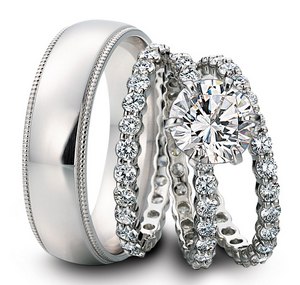 Styling
Of course you want your ring to be unique and characteristic of your personal style. A band doesn't have to be a plain ring of metal, although this can be a classic and striking look. Bands can also be highly decorative, incorporating twists in the metal, embedded jewels, or even rings inside of rings—sometimes called spinner rings. Decide early if you want matching bands or if you're comfortable with two completely different rings.
One nice touch, if your rings are not necessarily complimentary, is to have them engraved with the same saying (provided the metal will support engraving). If you plan to wear an engagement ring alongside your band, look into bands that compliment your engagement ring. Sometimes, these bands can even provide a decorative and protective buffer for a raised diamond and the two rings can nest together nicely. Many metals can also be fused together to make one ring out of your engagement ring and band.
Durability
Especially if your work puts significant strain on your hands, consider what a ring can go through in a lifetime of wear. Some metals get scratched very easily and there are a number of settings for jewels that are not as sturdy as others. Consider the ways in which you most often use your hands, how willing you are to remove your ring for portions of your day and whether or not the particular material you are interested in can stand up to your daily activities. While most rings can be polished or buffed to bring back their original shine, this can be an added expense that you may be unwilling to fork over in the future. On the other hand, those scuffs can be a romantic reminder of all those years together.
We hope this gives you some things to look for when weighing your wedding band options. For more tips be sure to check out the blog of your Outer Banks Wedding Minister.
Guest post written by Houston jewelry store WhiteFlash – authorized Ritani, Verragio, Vatche and Benchmark engagement rings dealer.