Women are expected to dream of their wedding day, from the time they are little girls till the day they actually say 'I do.' However, when it comes to men, there's no expectation for them to dream about a beautiful lady in a white dress walking down the aisle towards them or about the elegantly-decorated cake he'll cut with his future-wife.
In fact, in most cases, men have little involvement in the actual plans of their wedding once engaged. They leave it to their fiancé. With men not dreaming about weddings or being much involved in the planning, it seems like there's nothing in the deal for them (besides the actual exchanging of vows that make him husband.) However, there is actually one thing men dream about and is completely their territory: the engagement.
While many women also dream about that movie-perfect engagement story, it's also the man's. Women get the wedding; men get the engagement. However, planning out how to pop the question to that special someone can be hard. With viral videos of men going to extreme lengths to propose (like orchestrating a flash mob in Las Vegas that ends with the man on his knees) or your gal telling you how her best friend was engaged (on a carriage ride through Central Park) it can be hard to feel like you can compete.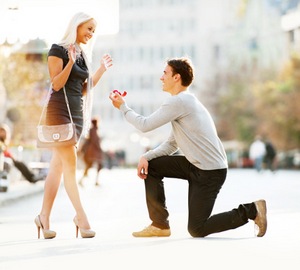 Luckily for you, not only does your special someone love you regardless, we've also compiled a list of ideas on how to make your proposal more special for the two of you.
Here are five simple & romantic ways to propose:
Propose Where You First Met
Nothing like recreating that moment you first met to once again steal her heart away and prove that you remember the little details about your relationship. Maybe the place you first met wasn't the coolest of places, but showing her you remember where it all started will have her head-over-heels.

Propose At Her Favorite Place
Whether it's a restaurant or a destination, proposing at her favorite place will give her a new favorite memory to associate the place with and to have in general. Also note that if you let the restaurant on that you're proposing at their establishment, they'll usually give you a little special treatment, whether it be a top-notch table or a complimentary dessert or wine.

Propose When She'll Least Expect It
The element of surprise will have her knocked off her feet. Many women, once the topic of marriage has been approached, will start suspecting any romantic evening to end with a diamond ring, but by doing it when she isn't expecting it makes it all the more a genuine response and the more exciting.

Propose While On Vacation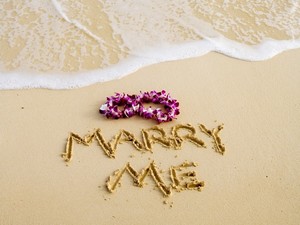 A little R&R… Relaxation and a ring sound much better than rest and relaxation. Your vacation will be nothing but bliss when your fiancé gets that ring and can't stop smiling, which will make you unable to stop smiling. You get a vacation and a fiancé, how is that not a good time?

Propose With A Hobby
Maybe your lady is into art, or baking, or playing games. Find a way to incorporate a marriage proposal into one of her favorite things. Maybe you draw a picture of a chapel you want to get married at, or you frost a cake to say 'will you marry me?' or you play the game Scrabble and spell out 'marry me.' Combining one of her hobbies with the proposal will show her what a crafty, amazing guy you are.
Have you figured out how you're going to propose? We also have some tips for helping you choose the perfect wedding ring.
Elena Lang works with the finest jewelry at Primestyle. She sells engagement rings at a low cost and helps women find the perfect wedding sets.