As the holidays approach and the weather grows colder by the day, ladies will be wondering what that special guy has in store for them. Gents – flowers, no matter the season, are always well received and loved by the ladies. Roses are nice (especially for an Outer Banks Wedding) but more points are scored for the man who uses his creativity and color palate to devise a bouquet worth swooning over. This winter season there are more flowers available than just the greenhouse rose or the potted red or white poinsettia.
So here's a list of four winter flowers that are sure to brighten any room or vase and also a certain girl's heart.
1. Snapdragon(pictured above) – In the colder climates, they bloom in the spring but flower shops readily get these beauts sent from the warmer areas that have them all abloom in the wintertime. These babies come in a variety of colors and with their soft pink hue and vertical arrangement and they offer a good supplement to a bunch of larger blooms mentioned below. They also snap if you squeeze at the base of the flower, adding a touch of fun to any arrangement.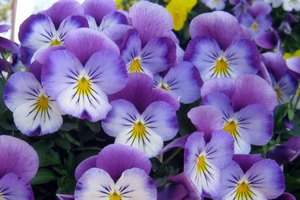 2. Pansies – Pansies are large-flowered and butterfly looking with large faces that come in a huge range of colors ― both solids and bi-colors and bloom through the winter. They have an interesting appearance with two large petals overlapping at the top, two side petals, and a lower petal.
At times, the different layers can take different colors; the tops could be purple, the sides yellow, and the lower petal, white. It's no wonder this colorful gem has been the topic of poets and artists like William Wordsworth, Shakespeare, and Georgia O'Keefe.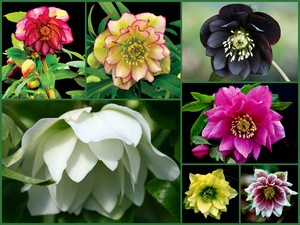 3. Hellebores – These flowers come in a huge variety and are found in Europe and across the Mediterranean into Turkey and as far as China. They generally have 5 petals arranged in a cup-like formation. They range in color from white and green through pink and red to deep purple. A few species have even gained the Royal Horticultural Society's Award of Garden Merit, namely the Christmas rose (Helleborus niger); a white or often pink large-petaled flower grown in the depths of winter.
In ancient times, it was used to drive out evil influences, bless animals, and it was even used to ward off the power of witches. Quite a history for a flower that received it's name from an old legend that spoke of how it sprouted in the snow from the tears of a young girl who had no gift to give the Christ child in Bethlehem.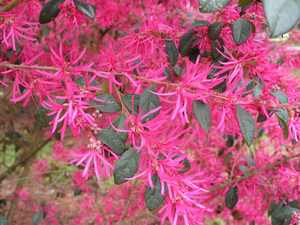 4. Witch-hazel – Yes, the same witch hazel that you can purchase medicinally from the drugstore next to the Hydrogen Peroxide. But this flower is excellent for making a bouquet have that special edge for the gamer/horror flick lover in your life. Grown in North America and occasionally called winterbloom, this 'shrubbery' produces their spidery blooms anywhere from November to early March.
Their petals are long, thin, and usually dark yellow, orange, or red. They give a very rustic look and could be paired with holly for a very unusual arrangement that screams 'I love my girl so much that I can pick flowers that appeal to her unique tastes!'
So there you have it. Get out there and find something original this holiday season. You can try flower shops, but for the more adventurous flower markets or farmer's markets are sure to bring about some results. Don't be afraid to ask growers as well. After all, they might be showing the roses in the windows, but at heart they'd love to sell you the ones in the back!
Tiffany Wells is a professional blogger that writes for Afloral.com, a leading online retailer of silk wedding flowers and floral supplies.